Fandom:
Twilight
Subject:
Edward&Bella
Title:
Closer
Warnings:
It's about Twilight so no Breaking Dawn spoilers!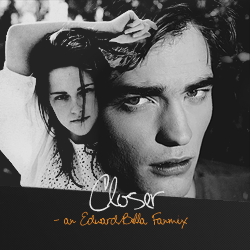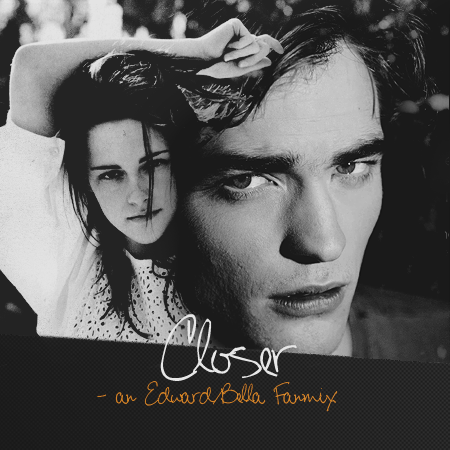 01. Incubus - Drive
[download song]
Sometimes I feel the fear of uncertainty stinging clear
And I can't help but ask myself how much I'll let the fear
Take the wheel and steer
It's driven me before and seems to have a vague
Haunting mass appeal
But lately I'm beginning to find that I
Should be the one behind the wheel
02. Jimmy Eat World - Closer
[download song]
Everyday I get a little closer, dear
Will you love me darling when I get there?
I'll need sunshine, I'll need rest
Pour us whiskey, water, kiss
Remember me, she said smiling
Write my name somewhere safe
Touch and taste
Fades with space
I'll never be who you'll dream
03. A Fine Frenzy - Come On, Come Out
[download song]
Come on, come out, the weather is warm
Come on, come out, said come on, come on
A spot in the shade where oranges fall
The spot in the shade away from it all
A blanket unfolds, a blanket to lie
The pieces of gold, they light up your eyes
And now we're alone and now we're alive
04. Death Cab For Cutie - Passenger Seat
[download song]
I roll the window down
And then begin to breathe in
The darkest country road
And the strong scent of evergreen
From the passenger seat
As you are driving me home
Then looking upwards
I strain my eyes and try
To the the difference between
Shooting stars and satellites
From the passenger seat
As you are driving me home
"Do they collide?"
I ask and you smile
05. Damien Rice - Sleep Don't Weep
[download song]
Sleep, don't weep, my sweet love
Your face is all wet and your day was rough
06. PJ Harvey - One Line
[download song]
Do you remember the first kiss?
Stars shooting across the sky
To come to such a place as this
You never left my mind
I'm watching from the wall
As in the streets we fight
This world all gone to war
All I need is you tonight
And I draw a line
To your heart today
To your heart from mine
A line keep us safe
07. The Fray - Together
[download song]
As the spring in its bloom
The summer stars and the moon
Come and dance with me, my love
and we will be one
We go together
I promise forever
Everyday together
I live with you
08. Kendall Payne - I Will Show You Love
[download song]
I will show you love like you've never loved before
I will go the distance and back for more if you just say the word
You will come alive again and call the trying times your friend
The pain that you have suffered through will never get the best of you
You will hope in something real that won't depend on how you feel
When you call my name then I will answer
09. Death Cab For Cutie - I Will Follow You Into The Dark
[download song]
Love of mine, some day you will die
But I'll be close behind
I'll follow you into the dark
No blinding light or tunnels to gates of white
Just our hands clasped so tight
Waiting for the hint of a spark
10. Kate Havnevik - Timeless
[download song]
Timeless, love is a cure
A promise, still so pure
Rise like the tide, no need to hide it
Fearless, just like before
Breathe in, and let go
I have seen, how you crawl
Let go and hover
Still changing colors
But nothing can break this call
11. Watermark - Made For You
[download song]
I love to hear your heart
Telling of your love
Telling me you'll stay forever
I thank you for your touch
And for loving me that much
To know the things I need to hear





[download .zip file including all songs + coverart]
[x] Please comment if you're downloading :)
[x] Feel free to
join or
watch
the community for updates!